ETS 2 – Ukrainian Paint Job – Kodları
Merhabalar, Bu yazımızda SCS Software oyun yapım şirketi bir blog yazısında Ukrayna'ya destek için hızlıca bir paint job yani araç kaplaması hazırlamaya başladıklarını belirtmişti. Bu kaplama paketi ise 04.03.2022 – 18:30 gibi yayınlandı ve ücreti ise 2TL olarak belirlendi. Ancak 2TL ile satın almayıp kodları ile kullanmak istiyorsanız işte bu yazımız tam size göre olduğunu belirtmek istiyorum. Aşağıdaki kodları kullanabilirsiniz. Yapımı için aşağıda bulunana videomuzu izleyebilirsiniz.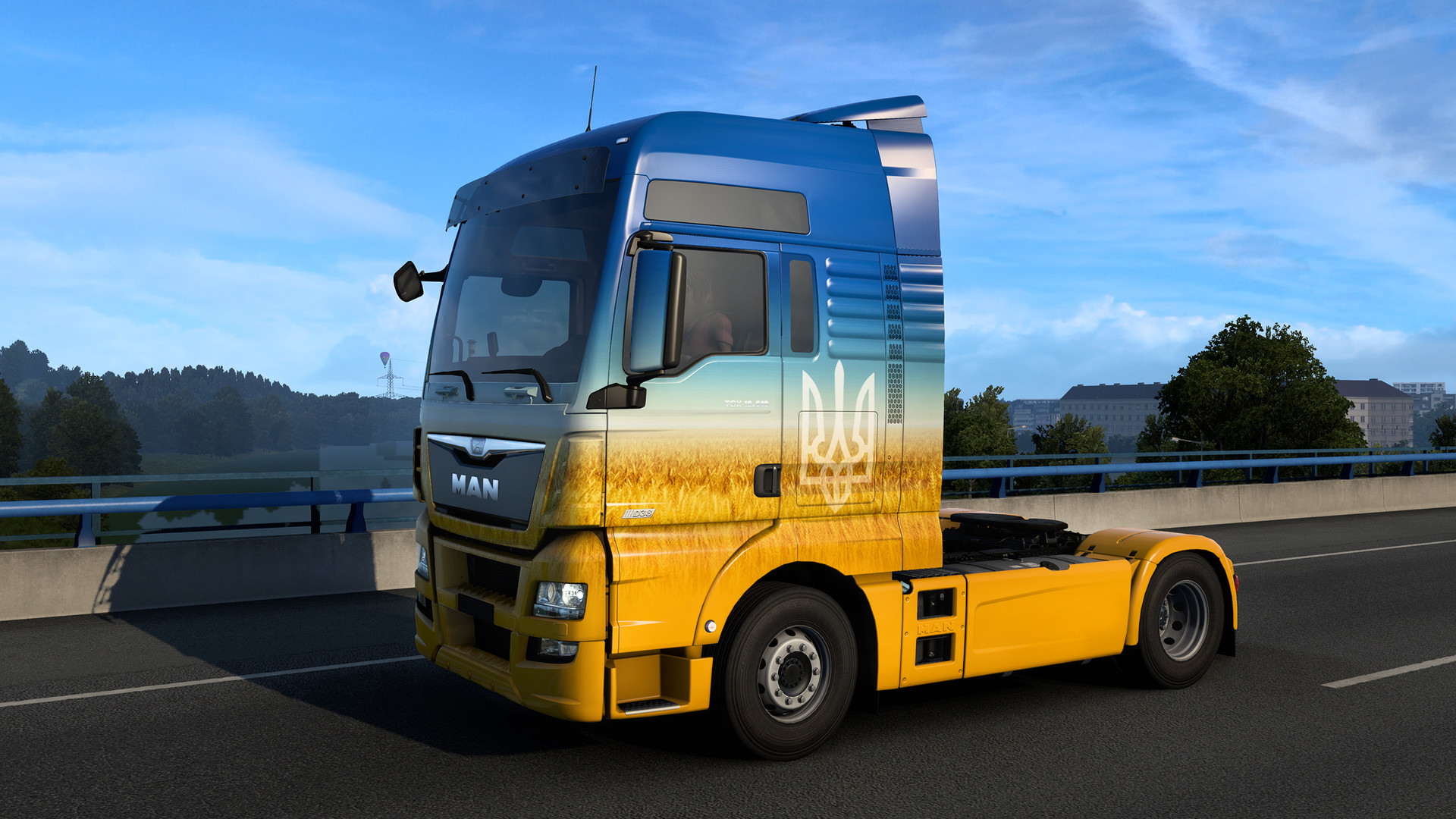 Hello, In this article, the game production company SCS Software stated in a blog post that they quickly started preparing a paint job, that is, a car cover, to support Ukraine. This coating package was published on 04.03.2022 – 18:30 and the fee was determined as 2TL. But if you want to not buy it with 2TL and use it with codes, I want to note that this article is for you. You can use the following codes. You can watch our video below for its construction.

DAF 2021
/def/vehicle/truck/daf.2021/paint_job/ukr_or1_a.sii
/def/vehicle/truck/daf.2021/paint_job/ukr_or1_b.sii
/def/vehicle/truck/daf.2021/paint_job/ukr_or1_c.sii
/def/vehicle/truck/daf.2021/paint_job/ukr_sml_dx_a.sii
/def/vehicle/truck/daf.2021/paint_job/ukr_sml_dx_b.sii
/def/vehicle/truck/daf.2021/paint_job/ukr_sml_dx_c.sii
/def/vehicle/truck/daf.2021/paint_job/ukr_str_a.sii
/def/vehicle/truck/daf.2021/paint_job/ukr_str_b.sii
/def/vehicle/truck/daf.2021/paint_job/ukr_str_c.sii
/def/vehicle/truck/daf.2021/paint_job/ukr_whe_dx_a.sii
/def/vehicle/truck/daf.2021/paint_job/ukr_whe_dx_b.sii
/def/vehicle/truck/daf.2021/paint_job/ukr_whe_dx_c.sii
DAF XF 105
/def/vehicle/truck/daf.xf/paint_job/ukr_flag_a.sii
/def/vehicle/truck/daf.xf/paint_job/ukr_flag_b.sii
/def/vehicle/truck/daf.xf/paint_job/ukr_flag_c.sii
/def/vehicle/truck/daf.xf/paint_job/ukr_sml_xf_a.sii
/def/vehicle/truck/daf.xf/paint_job/ukr_sml_xf_b.sii
/def/vehicle/truck/daf.xf/paint_job/ukr_sml_xf_c.sii
/def/vehicle/truck/daf.xf/paint_job/ukr_str_a.sii
/def/vehicle/truck/daf.xf/paint_job/ukr_str_b.sii
/def/vehicle/truck/daf.xf/paint_job/ukr_str_c.sii
/def/vehicle/truck/daf.xf/paint_job/ukr_whe_xf_a.sii
/def/vehicle/truck/daf.xf/paint_job/ukr_whe_xf_b.sii
/def/vehicle/truck/daf.xf/paint_job/ukr_whe_xf_c.sii
---
DAF XF 106
/def/vehicle/truck/daf.xf_euro6/paint_job/ukr_flag_a.sii
/def/vehicle/truck/daf.xf_euro6/paint_job/ukr_flag_b.sii
/def/vehicle/truck/daf.xf_euro6/paint_job/ukr_flag_c.sii
/def/vehicle/truck/daf.xf_euro6/paint_job/ukr_sml_d6_a.sii
/def/vehicle/truck/daf.xf_euro6/paint_job/ukr_sml_d6_b.sii
/def/vehicle/truck/daf.xf_euro6/paint_job/ukr_sml_d6_c.sii
/def/vehicle/truck/daf.xf_euro6/paint_job/ukr_str_a.sii
/def/vehicle/truck/daf.xf_euro6/paint_job/ukr_str_b.sii
/def/vehicle/truck/daf.xf_euro6/paint_job/ukr_str_c.sii
/def/vehicle/truck/daf.xf_euro6/paint_job/ukr_whe_d6_a.sii
/def/vehicle/truck/daf.xf_euro6/paint_job/ukr_whe_d6_b.sii
/def/vehicle/truck/daf.xf_euro6/paint_job/ukr_whe_d6_c.sii
---
İveco Hiway
/def/vehicle/truck/iveco.hiway/paint_job/ukr_flag_a.sii
/def/vehicle/truck/iveco.hiway/paint_job/ukr_sml_ih_a.sii
//def/vehicle/truck/iveco.hiway/paint_job/ukr_str_a.sii
/def/vehicle/truck/iveco.hiway/paint_job/ukr_whe_ih_a.sii
---
İveco Stralis
/def/vehicle/truck/iveco.stralis/paint_job/ukr_flag_a.sii
/def/vehicle/truck/iveco.stralis/paint_job/ukr_flag_b.sii
/def/vehicle/truck/iveco.stralis/paint_job/ukr_flag_c.sii
/def/vehicle/truck/iveco.stralis/paint_job/ukr_sml_is_a.sii
/def/vehicle/truck/iveco.stralis/paint_job/ukr_sml_is_b.sii
/def/vehicle/truck/iveco.stralis/paint_job/ukr_sml_is_c.sii
/def/vehicle/truck/iveco.stralis/paint_job/ukr_str_a.sii
/def/vehicle/truck/iveco.stralis/paint_job/ukr_str_b.sii
/def/vehicle/truck/iveco.stralis/paint_job/ukr_str_c.sii
/def/vehicle/truck/iveco.stralis/paint_job/ukr_whe_is_a.sii
/def/vehicle/truck/iveco.stralis/paint_job/ukr_whe_is_b.sii
/def/vehicle/truck/iveco.stralis/paint_job/ukr_whe_is_c.sii
---
Man Tgx
/def/vehicle/truck/man.tgx/paint_job/ukr_flag_a.sii
/def/vehicle/truck/man.tgx/paint_job/ukr_flag_b.sii
/def/vehicle/truck/man.tgx/paint_job/ukr_flag_c.sii
/def/vehicle/truck/man.tgx/paint_job/ukr_sml_mt_a.sii
/def/vehicle/truck/man.tgx/paint_job/ukr_sml_mt_b.sii
/def/vehicle/truck/man.tgx/paint_job/ukr_sml_mt_c.sii
/def/vehicle/truck/man.tgx/paint_job/ukr_str_a.sii
/def/vehicle/truck/man.tgx/paint_job/ukr_str_b.sii
/def/vehicle/truck/man.tgx/paint_job/ukr_str_c.sii
/def/vehicle/truck/man.tgx/paint_job/ukr_whe_mt_a.sii
/def/vehicle/truck/man.tgx/paint_job/ukr_whe_mt_b.sii
/def/vehicle/truck/man.tgx/paint_job/ukr_whe_mt_c.sii
---
Man Tgx Euro6
/def/vehicle/truck/man.tgx_euro6/paint_job/ukr_flag_a.sii
/def/vehicle/truck/man.tgx_euro6/paint_job/ukr_flag_b.sii
/def/vehicle/truck/man.tgx_euro6/paint_job/ukr_flag_c.sii
/def/vehicle/truck/man.tgx_euro6/paint_job/ukr_sml_m6_a.sii
/def/vehicle/truck/man.tgx_euro6/paint_job/ukr_sml_m6_b.sii
/def/vehicle/truck/man.tgx_euro6/paint_job/ukr_sml_m6_c.sii
/def/vehicle/truck/man.tgx_euro6/paint_job/ukr_str_a.sii
/def/vehicle/truck/man.tgx_euro6/paint_job/ukr_str_b.sii
/def/vehicle/truck/man.tgx_euro6/paint_job/ukr_str_c.sii
/def/vehicle/truck/man.tgx_euro6/paint_job/ukr_whe_m6_a.sii
/def/vehicle/truck/man.tgx_euro6/paint_job/ukr_whe_m6_b.sii
/def/vehicle/truck/man.tgx_euro6/paint_job/ukr_whe_m6_c.sii
---
Mercedes Actros
/def/vehicle/truck/mercedes.actros/paint_job/ukr_flag_a.sii
/def/vehicle/truck/mercedes.actros/paint_job/ukr_flag_b.sii
/def/vehicle/truck/mercedes.actros/paint_job/ukr_flag_c.sii
/def/vehicle/truck/mercedes.actros/paint_job/ukr_sml_ma_a.sii
/def/vehicle/truck/mercedes.actros/paint_job/ukr_sml_ma_b.sii
/def/vehicle/truck/mercedes.actros/paint_job/ukr_sml_ma_c.sii
/def/vehicle/truck/mercedes.actros/paint_job/ukr_str_a.sii
/def/vehicle/truck/mercedes.actros/paint_job/ukr_str_b.sii
/def/vehicle/truck/mercedes.actros/paint_job/ukr_str_c.sii
/def/vehicle/truck/mercedes.actros/paint_job/ukr_whe_ma_a.sii
/def/vehicle/truck/mercedes.actros/paint_job/ukr_whe_ma_b.sii
/def/vehicle/truck/mercedes.actros/paint_job/ukr_whe_ma_c.sii
---
Mercedes Actros 2014
/def/vehicle/truck/mercedes.actros2014/paint_job/ukr_flag_a.sii
/def/vehicle/truck/mercedes.actros2014/paint_job/ukr_flag_b.sii
/def/vehicle/truck/mercedes.actros2014/paint_job/ukr_flag_c.sii
/def/vehicle/truck/mercedes.actros2014/paint_job/ukr_sml_m4_a.sii
/def/vehicle/truck/mercedes.actros2014/paint_job/ukr_sml_m4_b.sii
/def/vehicle/truck/mercedes.actros2014/paint_job/ukr_sml_m4_c.sii
/def/vehicle/truck/mercedes.actros2014/paint_job/ukr_sml_m4_d.sii
/def/vehicle/truck/mercedes.actros2014/paint_job/ukr_str_a.sii
/def/vehicle/truck/mercedes.actros2014/paint_job/ukr_str_b.sii
/def/vehicle/truck/mercedes.actros2014/paint_job/ukr_str_c.sii
/def/vehicle/truck/mercedes.actros2014/paint_job/ukr_whe_m4_a.sii
/def/vehicle/truck/mercedes.actros2014/paint_job/ukr_whe_m4_b.sii
/def/vehicle/truck/mercedes.actros2014/paint_job/ukr_whe_m4_c.sii
---
Renault Magnum
/def/vehicle/truck/renault.magnum/paint_job/ukr_flag_a.sii
/def/vehicle/truck/renault.magnum/paint_job/ukr_sml_rm_a.sii
/def/vehicle/truck/renault.magnum/paint_job/ukr_str_a.sii
/def/vehicle/truck/renault.magnum/paint_job/ukr_whe_rm_a.sii
---
Renault Premium
/def/vehicle/truck/renault.premium/paint_job/ukr_flag_a.sii
/def/vehicle/truck/renault.premium/paint_job/ukr_flag_b.sii
/def/vehicle/truck/renault.premium/paint_job/ukr_sml_rp_a.sii
/def/vehicle/truck/renault.premium/paint_job/ukr_sml_rp_b.sii
/def/vehicle/truck/renault.premium/paint_job/ukr_str_a.sii
/def/vehicle/truck/renault.premium/paint_job/ukr_str_b.sii
/def/vehicle/truck/renault.premium/paint_job/ukr_whe_rp_a.sii
/def/vehicle/truck/renault.premium/paint_job/ukr_whe_rp_b.sii
---
Renault T Range
/def/vehicle/truck/renault.t/paint_job/ukr_flag_a.sii
/def/vehicle/truck/renault.t/paint_job/ukr_flag_b.sii
/def/vehicle/truck/renault.t/paint_job/ukr_sml_rt_a.sii
/def/vehicle/truck/renault.t/paint_job/ukr_sml_rt_b.sii
/def/vehicle/truck/renault.t/paint_job/ukr_str_a.sii
/def/vehicle/truck/renault.t/paint_job/ukr_str_b.sii
/def/vehicle/truck/renault.t/paint_job/ukr_whe_rt_a.sii
/def/vehicle/truck/renault.t/paint_job/ukr_whe_rt_b.sii
---
Scania R
/def/vehicle/truck/scania.r/paint_job/ukr_flag_a.sii
/def/vehicle/truck/scania.r/paint_job/ukr_flag_b.sii
/def/vehicle/truck/scania.r/paint_job/ukr_flag_c.sii
/def/vehicle/truck/scania.r/paint_job/ukr_sml_sr_a.sii
/def/vehicle/truck/scania.r/paint_job/ukr_sml_sr_b.sii
/def/vehicle/truck/scania.r/paint_job/ukr_sml_sr_c.sii
/def/vehicle/truck/scania.r/paint_job/ukr_sml_sr_d.sii
/def/vehicle/truck/scania.r/paint_job/ukr_str_a.sii
/def/vehicle/truck/scania.r/paint_job/ukr_str_b.sii
/def/vehicle/truck/scania.r/paint_job/ukr_str_c.sii
/def/vehicle/truck/scania.r/paint_job/ukr_whe_sr_a.sii
/def/vehicle/truck/scania.r/paint_job/ukr_whe_sr_b.sii
/def/vehicle/truck/scania.r/paint_job/ukr_whe_sr_c.sii
---
Scania S 2016
/def/vehicle/truck/scania.s_2016/paint_job/ukr_or1_a.sii
/def/vehicle/truck/scania.s_2016/paint_job/ukr_or1_b.sii
/def/vehicle/truck/scania.s_2016/paint_job/ukr_sm_ss2_a.sii
/def/vehicle/truck/scania.s_2016/paint_job/ukr_sm_ss2_b.sii
/def/vehicle/truck/scania.s_2016/paint_job/ukr_sm_ss2_c.sii
/def/vehicle/truck/scania.s_2016/paint_job/ukr_str_a.sii
/def/vehicle/truck/scania.s_2016/paint_job/ukr_str_b.sii
/def/vehicle/truck/scania.s_2016/paint_job/ukr_wh_ss2_a.sii
/def/vehicle/truck/scania.s_2016/paint_job/ukr_wh_ss2_b.sii
---
Scania R 2016
/def/vehicle/truck/scania.r_2016/paint_job/ukr_or1_a.sii
/def/vehicle/truck/scania.r_2016/paint_job/ukr_or1_b.sii
/def/vehicle/truck/scania.r_2016/paint_job/ukr_sm_ss2_a.sii
/def/vehicle/truck/scania.r_2016/paint_job/ukr_sm_ss2_b.sii
/def/vehicle/truck/scania.r_2016/paint_job/ukr_sm_ss2_c.sii
/def/vehicle/truck/scania.r_2016/paint_job/ukr_str_a.sii
/def/vehicle/truck/scania.r_2016/paint_job/ukr_str_b.sii
/def/vehicle/truck/scania.r_2016/paint_job/ukr_wh_ss2_a.sii
/def/vehicle/truck/scania.r_2016/paint_job/ukr_wh_ss2_b.sii
---
Scania Streamline
/def/vehicle/truck/scania.streamline/paint_job/ukr_or1_a.sii
/def/vehicle/truck/scania.streamline/paint_job/ukr_or1_b.sii
/def/vehicle/truck/scania.streamline/paint_job/ukr_or1_c.sii
/def/vehicle/truck/scania.streamline/paint_job/ukr_sm_ss2_a.sii
/def/vehicle/truck/scania.streamline/paint_job/ukr_sm_ss2_b.sii
/def/vehicle/truck/scania.streamline/paint_job/ukr_sm_ss2_c.sii
/def/vehicle/truck/scania.streamline/paint_job/ukr_sm_ss2_d.sii
/def/vehicle/truck/scania.streamline/paint_job/ukr_str_a.sii
/def/vehicle/truck/scania.streamline/paint_job/ukr_str_b.sii
/def/vehicle/truck/scania.streamline/paint_job/ukr_str_c.sii
/def/vehicle/truck/scania.streamline/paint_job/ukr_wh_ss2_a.sii
/def/vehicle/truck/scania.streamline/paint_job/ukr_wh_ss2_b.sii
/def/vehicle/truck/scania.streamline/paint_job/ukr_wh_ss2_c.sii
---
Volvo FH16
/def/vehicle/truck/volvo.fh16/paint_job/ukr_or1_a.sii
/def/vehicle/truck/volvo.fh16/paint_job/ukr_or1_b.sii
/def/vehicle/truck/volvo.fh16/paint_job/ukr_or1_c.sii
/def/vehicle/truck/volvo.fh16/paint_job/ukr_sm_ss2_a.sii
/def/vehicle/truck/volvo.fh16/paint_job/ukr_sm_ss2_b.sii
/def/vehicle/truck/volvo.fh16/paint_job/ukr_sm_ss2_c.sii
/def/vehicle/truck/volvo.fh16/paint_job/ukr_str_a.sii
/def/vehicle/truck/volvo.fh16/paint_job/ukr_str_b.sii
/def/vehicle/truck/volvo.fh16/paint_job/ukr_str_c.sii
/def/vehicle/truck/volvo.fh16/paint_job/ukr_wh_ss2_a.sii
/def/vehicle/truck/volvo.fh16/paint_job/ukr_wh_ss2_b.sii
/def/vehicle/truck/volvo.fh16/paint_job/ukr_wh_ss2_c.sii
---
Volvo FH16 2012
/def/vehicle/truck/volvo.fh16_2012/paint_job/ukr_or1_a.sii
/def/vehicle/truck/volvo.fh16_2012/paint_job/ukr_or1_b.sii
/def/vehicle/truck/volvo.fh16_2012/paint_job/ukr_or1_c.sii
/def/vehicle/truck/volvo.fh16_2012/paint_job/ukr_sm_v12_a.sii
/def/vehicle/truck/volvo.fh16_2012/paint_job/ukr_sm_v12_b.sii
/def/vehicle/truck/volvo.fh16_2012/paint_job/ukr_sm_v12_c.sii
/def/vehicle/truck/volvo.fh16_2012/paint_job/ukr_sm_v12_d.sii
/def/vehicle/truck/volvo.fh16_2012/paint_job/ukr_str_a.sii
/def/vehicle/truck/volvo.fh16_2012/paint_job/ukr_str_b.sii
/def/vehicle/truck/volvo.fh16_2012/paint_job/ukr_str_c.sii
/def/vehicle/truck/volvo.fh16_2012/paint_job/ukr_str_d.sii
/def/vehicle/truck/volvo.fh16_2012/paint_job/ukr_wh_v12_a.sii
/def/vehicle/truck/volvo.fh16_2012/paint_job/ukr_wh_v12_b.sii
/def/vehicle/truck/volvo.fh16_2012/paint_job/ukr_wh_v12_c.sii